SpeakerCraft Profile CRS6 One Ceiling Speaker
Special Price
£225.00
Regular Price
£250.00
SpeakerCraft Profile CRS6 One Ceiling Speakers
with FREE UK DELIVERY


SpeakerCraft Profile CRS6 One Ceiling Speakers deliver amazing sound quality from a compact, flush-mounted enclosure. Perfect for use in any medium sized room or as part of a multi-room audio system.
At the heart of the Profile CRS6 One design is a high-power 6.5" polypropylene woofer combined with an independently mounted 1" liquid cooled silk dome tweeter. This combination provides a wide dynamic range and great stereo separation. SpeakerCrafts Profile CRS6 Ones 92dB sensitivity rating and 100W power handling allow this ceiling speaker to be driven easily without compression or distortion. The pivoting tweeter allows you to aim the critical high frequency sounds towards your listening area.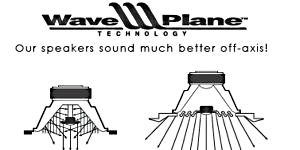 SpeakerCraft Profile CRS6 One Ceiling Speakers also offer technology that makes them unique in the way they disperse music or movie soundtracks in the room. First of all, the tweeter pivots to allow you to aim the critical high frequencies at the listening area. SpeakerCraft also created the WavePlane® which, supports the tweeter and keeps those same high frequencies from bouncing off the woofer. This means the CRS6 One gives a better sound and more uniform coverage throughout the listening area compared to traditional ceiling speakers.

SpeakerCraft Profile CRS6 One Key Features:
6 1/2" Polypropylene Cone Woofer with Rubber Surround
Pivoting 1" Liquid Cooled Silk Dome Tweeter with Neodymium Magnet
WavePlane Design assures optimal high frequency dispersion through out the listening area.
Tone Matched with all One Series SpeakerCraft Speakers
Recommend speaker applications:
SpeakerCraft's Profile CRS6 One is recommended for use in the following rooms:
Bedrooms
Kitchens
Dinning Rooms
Family Rooms
Studies
Home Offices

SpeakerCraft Profile CRS6 One Warranty:
SpeakerCraft ceiling speakers carry Limited Lifetime Warranty.

Efficiency - 92dB 1W/1m
Power recommendations - 5 - 100 Watts
Impedance - 8 Ohms
Frequency response - 40Hz - 20 kHz ±2dB
1" pivoting liquid cooled silk dome tweeter
6 1/2" polpropylene cone woofer with rubber surround
Cut Out Diameter: 209mm
Overall Diameter: 250mm
Speaker Depth: 97mm