SpeakerCraft Profile AIM5 Three Ceiling Speaker
Special Price
£283.50
Regular Price
£315.00
SpeakerCraft Profile AIM5 Three Ceiling Speakers
with FREE UK DELIVERY


SpeakerCraft Profile AIM5 Three Ceiling Speakers were first to feature an aimable woofer/tweeter module that aims the sound in any direction you choose. No longer are you bound by the design of your room. Just mount the speakers wherever it's convenient and point them wherever you want sound. Profile grilles are available in AIM8, AIM7 and AIM5 models.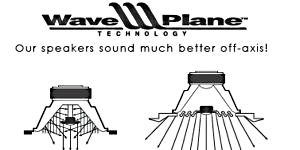 Profile is the least-looking line of speakers we've ever created. They barely even look like speakers. They look more like shadows—and that's if you notice them at all, which no one probably will unless they're just insatiably curious about where all that great sound is coming from.

There's no bezel and no visible mounting flange. All you see is a grille, which can be painted to match the wall or ceiling. It's the cleanest speaker installation you ever saw—or didn't see.

The Profile concept is available in numerous SpeakerCraft products. It's perfect for any place you want great sound but don't want visible speakers—in other words, for any room of any house in the world.

Ceiling-Speakershop Comments:
Use the Speakercraft Profile AIM5 Three Ceiling Speakers for cinema, multi-room stereo applications or anywhere you require directional discrete sound.

Recommend speaker applications:
Lounge/Cinema Room
Kitchens
Bedrooms
Family Rooms
Studies
Home Offices
SpeakerCraft Profile AIM5 Three Warranty:
SpeakerCraft ceiling speakers carry a Limited Lifetime Warranty.
We are authorised SpeakerCraft retailers. Brand new and complete with the full warranty.

Flangeless Appearance

Pivoting and Rotating 5 1⁄4" Aluminum Cone Woofer

Pivoting 3⁄4" Aluminum Dome Tweeter

WavePlane Technology

Front-Mounted Bass & Treble Equalization Switches

Timbre-Matched to All Three Series Speakers

Sensitivity: 89dB 1W/1m

Power Handling: 100 Watts

Impedance: 8/6/4 Ohms, Depending on Switch Settings

Frequency Response: 50Hz - 20kHz
Diameter x Depth: 8" x 4 1⁄2" (208 mm x 114 mm) (with Grille)

Cut-Out Diameter: 6 5⁄8" (168 mm)