SpeakerCraft Profile AIM5 One Ceiling Speaker
Special Price
£213.30
Regular Price
£237.00
SpeakerCraft Profile AIM5 One Ceiling Speakers
with FREE UK DELIVERY


SpeakerCraft Profile AIM5 One Ceiling Speakers have a 5'' polypropylene bass driver and a 3/4'' treated silk dome tweeter that can be independently pivoted toward any listening position. If listening-position or tastes change, the speaker can be aimed in another direction with a simple push of the hand.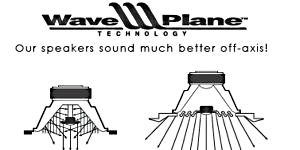 Suited to both stereo and home cinema applications the SpeakerCraft AIM 5 One is a high specification ceiling speaker with phenomenal dispersion characteristics. The SpeakerCraft tradition of innovative design, combined with one of the most extensive engineering efforts in this industry's history and American made quality make the AIM 5 one of the most exceptional ceiling speakers ever.

Speakercraft AIM5 One Ceiling Speakers Warranty:
SpeakerCraft ceiling speakers carry Limited Lifetime Warranty.
We are authorised Speakercraft retailers. Brand new and complete with the full warranty.

Efficiency - 88dB 1W/1m
Power recommendations - 5 - 75 Watts
Impedance - 8 Ohms
Frequency response - 55Hz - 20kHz ± 3dB
Timbre-Matched to all SpeakerCraft One Series speakers
Pivoting and rotating 5 1/4" injection molded polypropylene cone woofer
Pivoting 3/4" treated silk dome tweeter
Cut Out Diameter: 168mm
Overall Diameter: 207mm
Speaker Depth: 114mm