Monitor Audio Creator Series C2L-CP In-Ceiling Speaker
Monitor Audio Creator Series C2L-CP In-Ceiling Speaker



The Monitor Audio Creator Series C2L-CP large Tier 2 in-ceiling loudspeaker is designed to deliver pristine, engaging acoustics where high-performance sound is a key requirement. It is a two-way model featuring an RST II mid-bass driver and C-CAM tweeter. The performance benefit of having both within a single design means greatly improved clarity, wider dispersion into the listening environment, and clear lifelike high-fidelity sound – of the quality you'd expect from any Monitor Audio passive box loudspeaker.
As a Controlled Performance (CP) model, it is fitted with fully sealed back boxes that provides an ideal air load for the drivers, optimising mid-range and bass performance while maintaining sonic consistency regardless of interior wall construction. These rigid, mineral filled enclosures reduce the sound from the back of the cabinet by around 30 dB. This range guarantees excellent audio quality and versatility, for superior level of sound isolation between rooms and floors.
It has a cut-out dimension of 248 mm and uses the patented Quik-Link speaker cable connecter, which revolutionises the ease and speed of speaker installation. Tri-Grip has also been evolved for simple, reliable and strong fitment.
Optional square grille can be used with this model.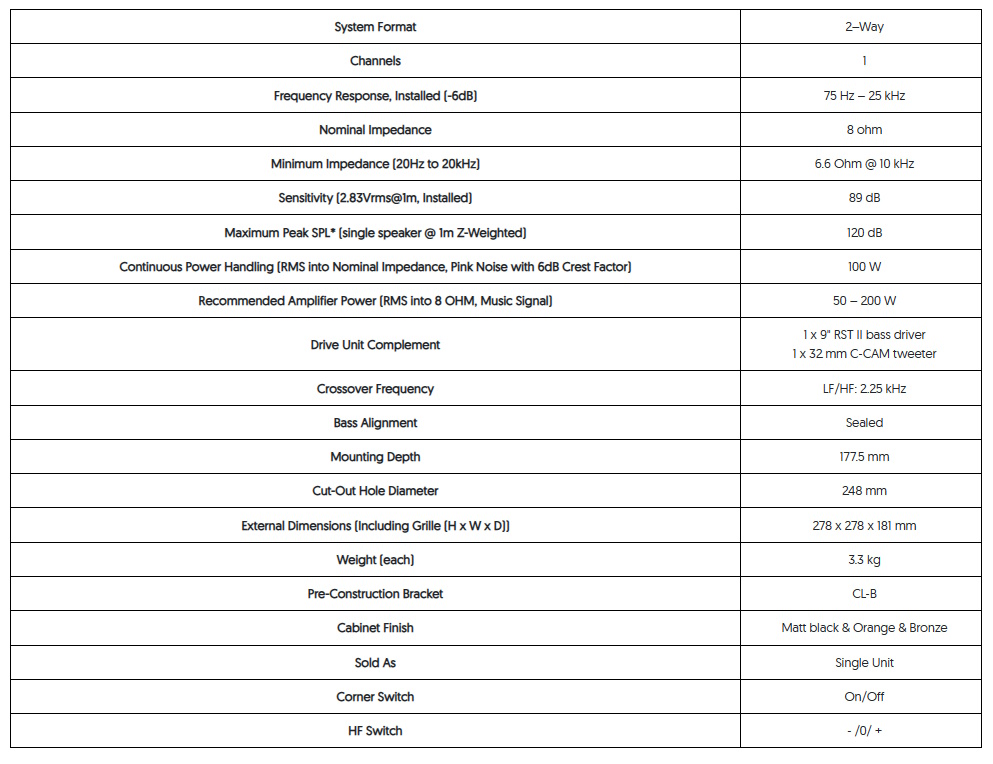 Mounting Depth 177.5 mm
Cut-Out Hole Diameter 248 mm
External Dimensions (Including Grille (H x W x D)) 278 x 278 x 181 mm
Weight (each) 3.3 kg
Pre-Construction Bracket CL-B