Special Price
£404.10
Regular Price
£449.00
SONOS Era 300


SONOS Era 300 next-level audio that hits from every direction, Era 300 doesn't just surround you, it puts you inside your music. Feel more connected to all your audio content with phenomenally clear and spacious sound. Stream from all your favourite services and devices with WiFi and Bluetooth.
Connect a turntable or other audio source using an auxiliary cable and the Sonos Line-In Adapter.
Experience mind-bendingly realistic surround sound when you pair two Era 300 speakers with Arc and stream spatial audio with Dolby Atmos.
Set up is easy, and control is even easier with the Sonos app, next-generation touch controls, and your voice.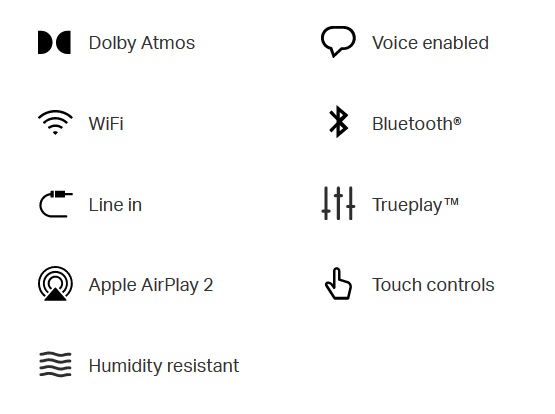 Colours
Black, White
Finish
Matte
Controls
Use the buttons to play, pause, skip, replay, adjust the volume, turn off the microphones, manually switch to Bluetooth, and more.
Bluetooth Button
Press to pair with a Bluetooth device.
Mic Switch
Toggle off this switch on the back of the product to disconnect all power to the microphone hardware.
LEDs
Lights on the product indicate connection, charge status, mute status, microphone activation, and errors.
Amplifiers
Six class-D digital amplifiers precision-tuned for the speaker's unique acoustic architecture power your sound experience.
Tweeters
Four tweeters ensure faithful playback of high and mid-range frequencies. The forward-firing mid tweeter provides a smooth centre image while two side-firing mid tweeters create stereo separation. Loaded into a directional horn, the upward-firing tweeter reflects sound off the ceiling when playing Dolby Atmos content.
Woofers
Two woofers maximise low-end output and are angled left and right to support stereo playback.
Microphones
The far-field microphone array uses advanced beamforming and multichannel echo cancellation for quick and accurate voice control and Trueplay tuning. Disconnect by toggling off the mic switch.
Adjustable EQ
Use the Sonos app to adjust bass, treble and loudness.
Trueplay
This software measures the acoustics of the room then fine-tunes the EQ. Compatible with iOS and Android devices.
WiFi
Compatible with WiFi 6. Connect to WiFi with any 802.11a/b/g/n/ac/ax 2.4 GHz/5 GHz broadcast-capable router.
Bluetooth
Bluetooth 5.0 supports audio streaming from any Bluetooth-enabled device.
Voltage
100-240V 50/60Hz internal power supply
USB-C Port
15W, 5V/3A
CPU
Quad Core
1.4 GHz A-53
Memory
1GB SDRAM
4GB NV
Apple AirPlay 2
Works with AirPlay 2 on Apple devices iOS 11.4 and higher on WiFi
Voice
Works with Amazon Alexa and Google Assistant on WiFi
Height: 6.30 in (160 mm)
Width: 10.24 in (260 mm)
Depth: 7.28 in (185 mm)
Weight: 9.85 lb (4.47 kg)