Monitor Audio Creator Series C2M-T2X Stereo In-Ceiling Speaker
Monitor Audio Creator Series C2M-T2X Stereo In-Ceiling Speaker



Monitor Audio Creator Series C2M-T2X medium-sized Tier 2 Stereo In-Ceiling Speaker is designed for cost-effective installations, where product simplicity and solid acoustic performance is required.
Ideal for both music and movies, the medium-sized Tier 2 in-ceiling C2M-T2X allows the user to switch between Music mode for wide dispersion and Movie mode for spatial effects. It is a two-way model featuring an RST II dual-coil bass driver and two C-CAM tweeters.
C2M-T2X has three modes:
Cinema Mono FX (Di-Pole, tweeters out of phase)
Mono Wide Dispersion (Bi-Pole, tweeters in phase)
Single Speaker Stereo (two binding posts accepting connection to two separate amplifier channels)
C2M-T2X is ideal used as rear surround channels, within corridors or large areas where maximum coverage is required, and in compact areas where there isn't space to fit two speakers.
It is a two-way model featuring a C-CAM mid-bass driver and C-CAM tweeter. The performance benefit of having both within a single design means greatly improved clarity, wider dispersion into the listening environment, and clear lifelike high-fidelity sound – of the quality you'd expect from any Monitor Audio passive box loudspeaker. It has a cut-out dimension of 218mm and uses the patented Quik-Link speaker cable connecter, which revolutionises the ease and speed of speaker installation. Tri-Grip has also been evolved for simple, reliable and strong fitment.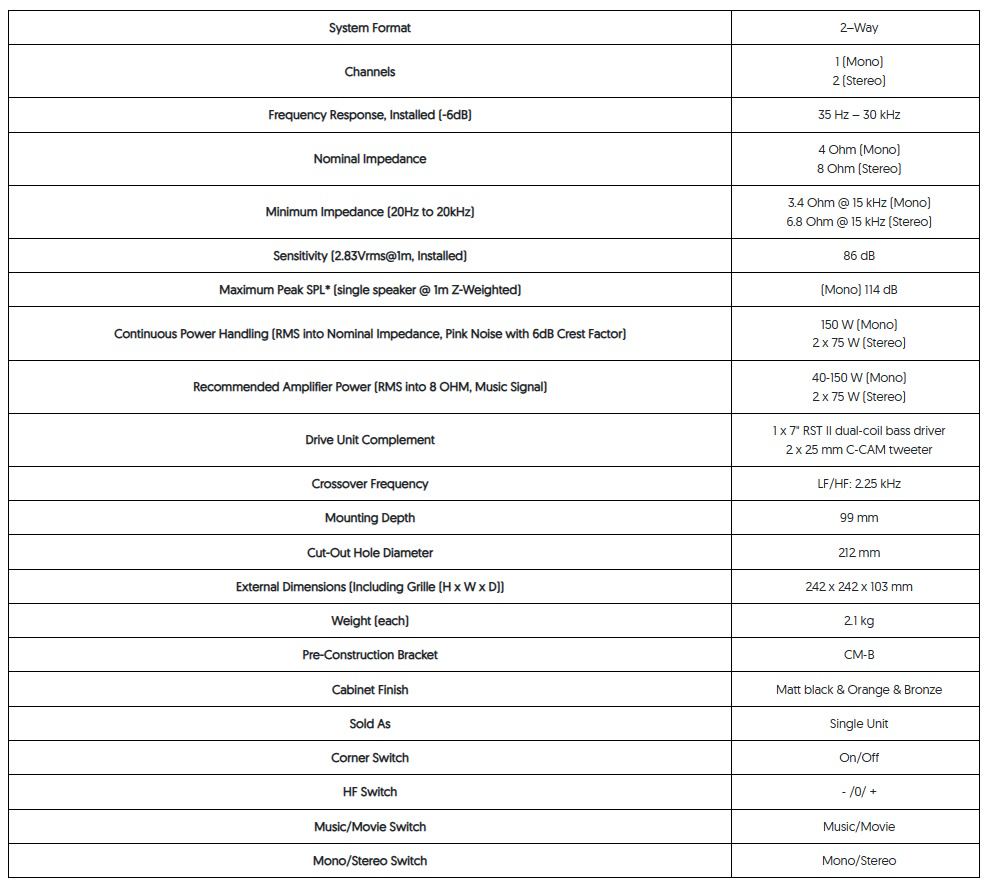 Mounting Depth 99 mm
Cut-Out Hole Diameter 212 mm
External Dimensions (Including Grille (H x W x D)) 242 x 242 x 103 mm
Weight (each) 2.1 kg
Pre-Construction Bracket CM-B