Lithe Audio Wireless Micro Sub woofer
Special Price
£378.00
Regular Price
£420.00
Lithe Audio Wireless Micro Sub woofer
with FREE UK DELIVERY


Wireless Micro Sub Woofer - Black
Big Impact from a compact sub woofer, this Sub is equipped with AirPlay2, Chomecast, and Alexa. Connect this wirelessly to your Lithe multi-room audio system or other compatible setups and add the bass to your music.
AUGMENTED REALITY
It's important that you know what your speakers will look like, so we've made something you can interact with.
MICRO SUB. MIGHTY BASS.®
The perfect accompaniment to your existing home audio system. With Airplay2, Chromecast, and Alexa compatibility, you're only a few steps away from experiencing awe-inspiring audio, right from the comfort of your living room.
QUICK AND EASY PLUG & PLAY SETUP
Quick and easy setup, plug-in and sync to home Wi-Fi network and group Lithe or other brand speakers and play.
MULTIROOM WIRELESS CONNECTIVITY
Position the micro sub in the corner of a room or behind the sofa or under the bed. Being wireless you can setup anywhere without the restrictions of speaker cable.
WORKS WITH ANY AIRPLAY 2 & GOOGLECAST SPEAKER
Group with any brand of speaker which has AirPlay2 to create a multi-brand multi-room audio setup.
ETHERNET HARDWIRED CONNECTION
Data in and Data out for streamlined cable management and a rock-solid data connection.
APP-BASED DSP
Full control over the crossover frequency, phase, volume, gain, low pass filter, high pass filter and speaker profile presets for fast easy setup.
HIGH-QUALITY AUDIO
Blends high power with 1x active and 2x radiator 4" drivers to fill the room with detailed and immersive bass with ease.
PERFECT FOR
All-in-one solution makes these unique speakers perfect for Kitchens, bedrooms, extensions, home offices and hotel rooms
FEATURES
• Plug & Play
• Wireless Connectivity
• Works With Any AirPlay 2 & Googlecast Speaker
• Ethernet Hardwired Connection
• APP based DSP
• High Quality Audio
• Built in AirPlay 2
• App control via IOS or Android, full control with easy drag and drop zoning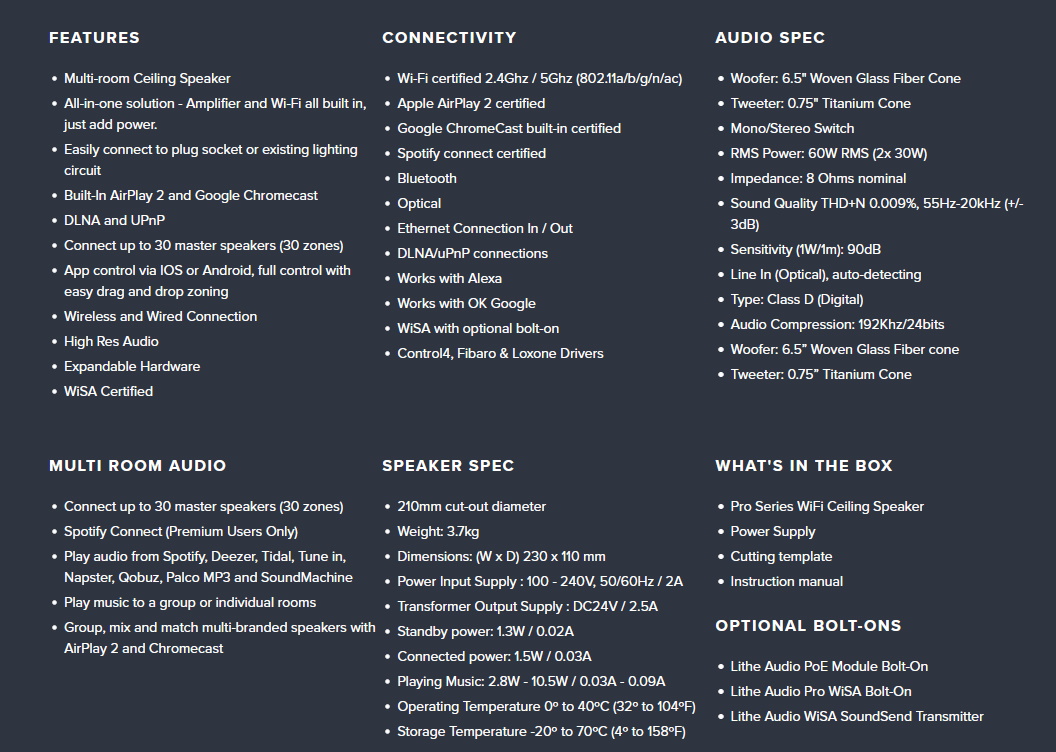 Dim: (W x D) 174 x 174 mm (6.85 x 6.85 in)
Weight: 3kg (6.61 lbs)