HOODY 7 Ceiling Fire Speaker Hood
HOODY 7 Ceiling Speaker Fire Hood
for 5″ to 7″ Speakers (265 x 160mm)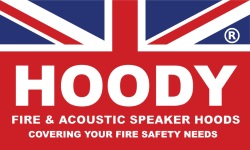 HOODY 7 Ceiling Fire Speaker Hood for 5″ to 7″ Speakers (265 x 160mm) meets all UK and EU building and IEE Regulations. HOODY® is especially designed for in-ceiling speakers and features a fire rating of up to 90 minutes, Parts B,L,C and E compliant and covers all makes of speakers from 5″ to 7" designs.

HOODY® is a range of Fire and Acoustic speaker hoods that will bring all your installations into conformity with the latest IEE and Building Regulations for Fire and Acoustic integrity of ceilings. The regulations state that once a hole has been made in the ceiling for a speaker, the integrity of its construction and its ability to perform in a fire is significantly reduced.
We suggest a Fire hood is fitted to all ceiling speaker locations, but it is a requirement that hoods are fitted to all in-ceiling speakers that are installed where a ceiling is rated for 30 mins or more to ensure compliance.
If you are unsure, be safe… always fit a hood.
For example, a standard two storey house will require all the ground floor speaker locations to have hoods fitted to retain the ceilings 30 minute fire integrity. If a house has three storeys you will need hoods fitted on the ground and first floor to correctly comply with the regulations.

Features:
Prevents fire from penetrating the ceiling void and retains ceiling's fire protection integrity



Lightweight & flexible cover can be fitted from below or above the ceiling

Installed in seconds and Maintenance free

Can be used for retro fit or new build installations


Can be used in suspended or plasterboard ceilings

Fully complies with all UK and EU legislation under BS EN1363-1 2012 for 90 minutes which meets and exceeds Document B Building Regulations BS476 Part 23 (relating to audio and fire dispersion in the home Parts E & F – 2004)

Also complies with 18th Edition IEE Regulations


Tested to EN 6069 (1997)

EU Registered Design No. 6060084

Patent GB 2582544B
We are authorised HOODY retailers. Brand new and complete with full warranty.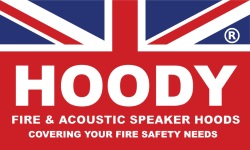 Retains ceiling's fire protection integrity



Lightweight & flexible cover fitted from below the ceiling

Installed in seconds. Maintenance free

Can be used for retro fit or new build installations

Can be used in suspended or plasterboard ceilings

Fully complies with all UK and EU legislation under BS EN1363-1 2012 for 90 minutes which meets and exceeds Document B Building Regulations BS476 Part 23 (relating to audio and fire dispersion in the home Parts E & F – 2004)
Also complies with 18th Edition IEE Regulations


Tested to EN 6069 (1997)