Parasound ZM450 Universal 4 Channel 8 speaker Amplifier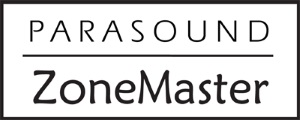 The Parasound ZM450 is a high fidelity 'Universal' 4 Channel 8 Speaker power amplifier, for custom installation projects where audio quality is paramount.

Its unique half rack and compact size makes it incredibly versatile, meaning that if you require enhanced performance - but only have half the physical space - the ZM450 is the perfect solution. As you would expect with Parasound the ZM450 is quite different as you would expect, it combines legendary Parasound Class AB sound quality with the most reliable Class D power modules in the industry.
Parasound's ZM450 uses a highly regarded Swedish Class D design to get the best performance and in this is worked in tandem with Parasound's consistent approach at the manufacturing level in that it uses only the best high-grade parts to ensure that it's performance is musical, reliable and powerful. Furthermore - this 'addiction' to ensuring sonic integrity is enhanced further with additional output filtering and a class AB input stage, and the result is a great sounding amp that is stable with low impedance loads and with reduced heat.
Despite it's demure footprint the ZM450 can output 50 watts RMS x 4 @ 8Ω, with all channels driven, and for higher impedance loads it will even output up to 90 watts RMS into x 4 @ 4Ω & 2Ω loads, all channels driven. If you require provision for higher power applications, then again the Parasound ZM450 will cater for both situations as it can be run in bridged mono providing 160 watts x 2 @ 8Ω (Bridged) and 200 watts x 2 @ 4Ω (Bridged).

This ZM450 has discrete rear mounted level controls for each channel, and has easy to use and handy detachable phoenix style speaker connectors that will handle up to 12 gauge speaker cable, perfect for those longer runs or higher power applications. Scalability is also built in mind as it also benefits from bus for looping Zone 1 to Zone 2 (and loop output for sending audio to another amplifier), ultra-sensitive audio trigger for automatic turn on both inputs, and designated zone specific 12v trigger inputs for automatic turn on - and also powered 12v output to trigger other devices. Please note that the ZM450 does not have A/B outputs, but will drive up to 4 pairs of speakers when wired in accordance with appropriate loading practices (will drive down to 2 ohms if required).
Key Features:
Universal amplifier for applications from 50 to 200 watts

4 speaker connections (not enough room for additional Phoenix connectors on ZM450 rear panel)

High current for stable operation at 2 Ohms

Channel pairs are bridgeable for up to 200 watts @ 4 Ohms

Class AB input stage plus premium Class D power stage

Independent audio sensing triggers, one for each zone

2 Independent 12 volt trigger inputs, one for each zone

Looping 12 volt trigger outputs for each zone

Master 12 volt trigger input to turn all zones on-off

Speaker level input for expanding systems w/out pre out jacks

Bus loop output jacks for passing audio to another amp

Mono mode combines L and R for single speaker applications

Separate level controls for all four channels

Detachable speaker connectors accept up to 12 gauge wire

Short circuit and overheat protection with front panel indicators

Compact 1u, 1/2 width chassis size

0.9 watt standby power consumption meets Energy Star & EU specs

Rack mount kit sold separately
Parasound Zamp Warranty:
Parasound 2 year parts, 2 years labour warranty.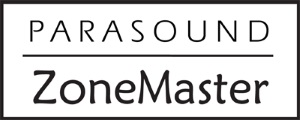 Power Output - RMS, All Channels Driven (20 Hz - 20 kHz):
50 watts x 4 @ 8Ω
90 watts x 4 @ 4Ω or 2Ω
160 watts x 2 @ 8Ω (Bridged)
200 watts x 2 @ 4Ω (Bridged)
Frequency Response:
10 Hz - 60 kHz, +0/-3 dB
Total Harmonic Distortion:
< 0.05% at typical listening levels
< 1.0% at full power
Interchannel Crosstalk:
70 dB at 20 kHz
Input Sensitivity:
700mv = Full output (50 Watts @ 8 Ω)
Total Gain = 29 dB (Level controls set to Maximum)
S/N Ratio:
> 112 dB, input shorted, IHF A-weighted
Audio Trigger Requirements:
2 mV Audio Signal
AC Power Requirement:
500 Watts Maximum
30 Watts Typical
15 Watts Idle (All Zones on)
7.5 Watts Idle (One Zone on)
0.9 Watts Standby
Dimensions:
Width: 8.5" (220 mm)
Depth: 10" (254 mm)
Height, with feet: 2" (51 mm)
Height, without feet: 1.75" (45 mm), 1U
Weight:
Net: 4.5 lbs (2.0kg)
Shipping: 7.5 lbs (3.4kg)